Due to the rise in Covid case, Los Alamitos will be on a virtual schedule beginning Tuesday, Jan. 25th for all students. Students will return to in person instruction on Tuesday, Feb. 1, 2022. Thanks for your cooperation and continued support.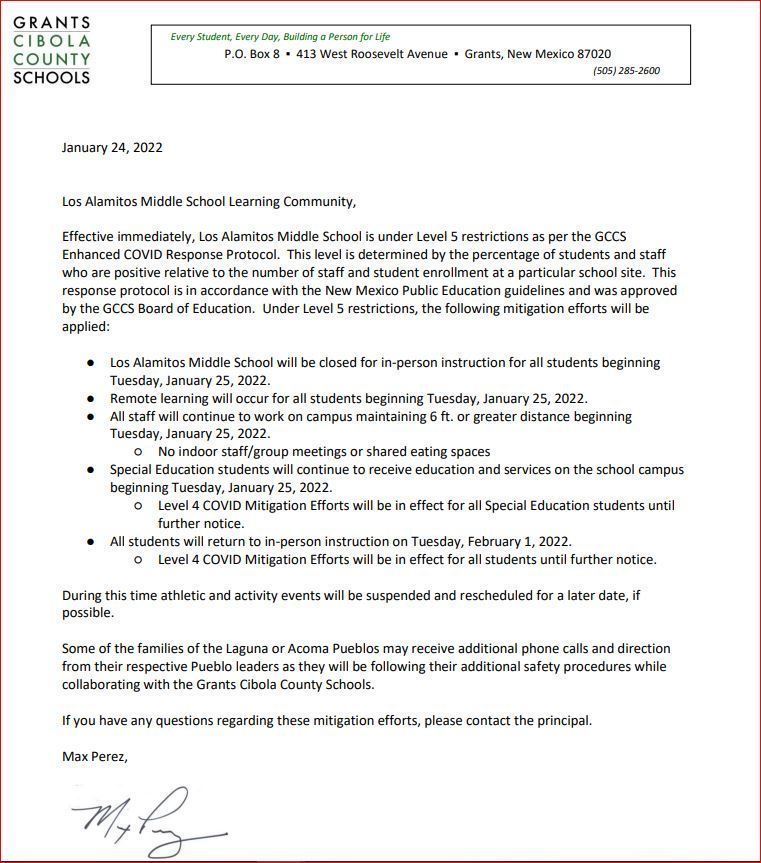 Los Alamitos Middle School will resume in-person learn at the school site tomorrow. Please have you child at school and ready to learn. If your child is sick or pending a covid test please keep them home and notify the school. This will help slow the spread of Covid and keep us in-person. Thanks!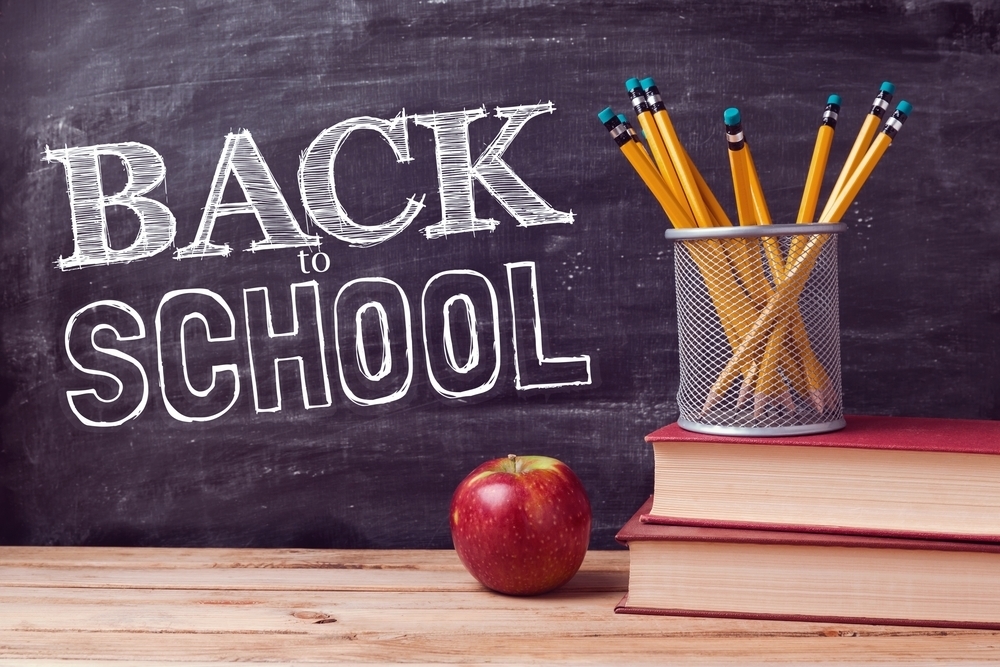 ATTENTION GCCS Community - Information from Cibola General Hospital Starting 01/21/22 until further notice, due to supply chain issues Cibola General Hospital and Cibola Family Health Center will no longer be providing surveillance testing (exposure), back to work, or travel COVID testing at this time. NMDOH has agreed to increase surveillance (exposure) testing over the next two weeks: January 25 1pm-3pm January 26 10am-noon February 1 1pm-3pm February 2 10 am-noon Individuals can sign up at: cvtestreg.nmhealth.org Free At Home Testing Kits Available at: special.usps.com/testkits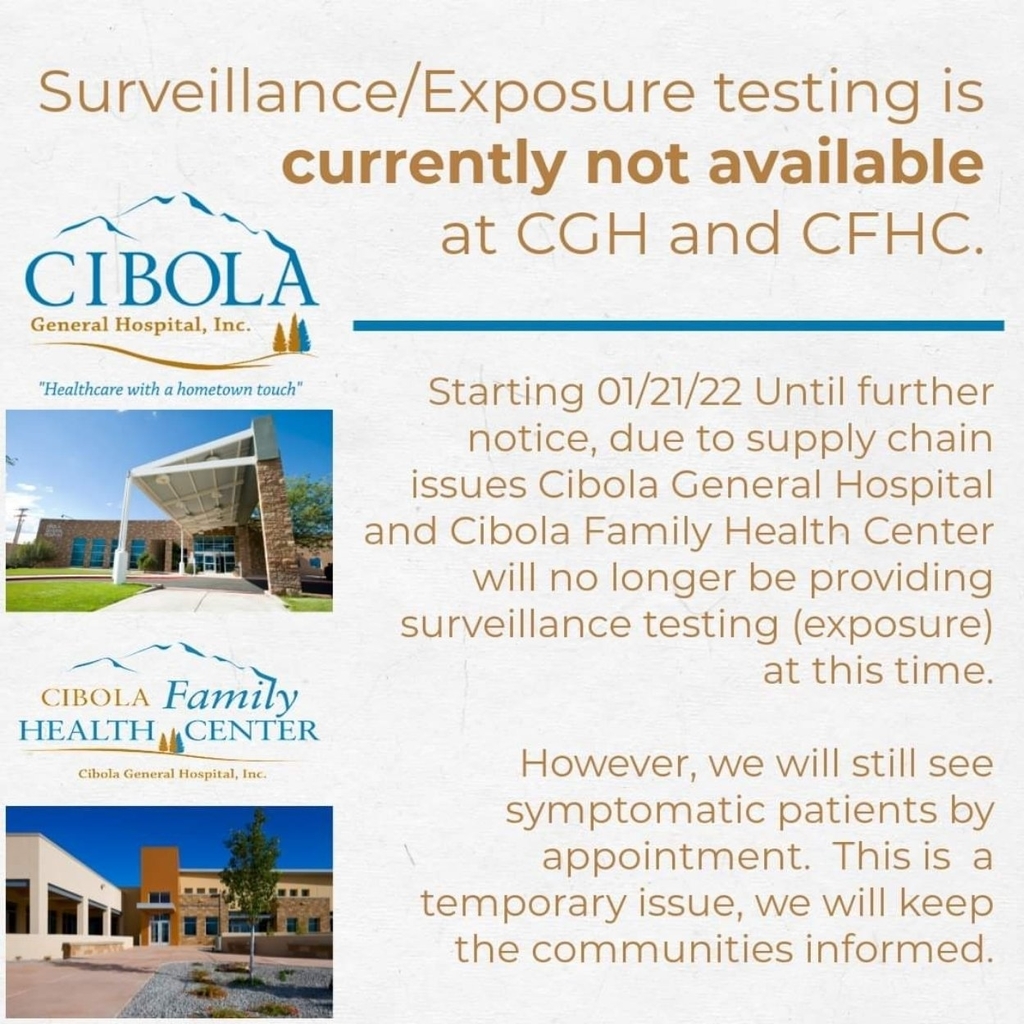 Attention families of Los Alamitos Students. Please review the letter below from the Superintendent, regarding Covid-19 and the Virtual Schedule for LAMS starting tomorrow, January 19th.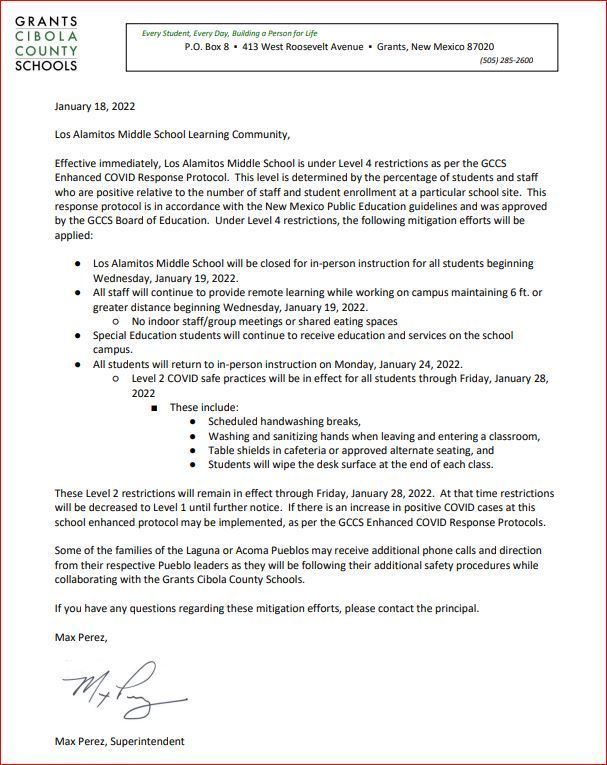 Just a reminder to everyone, all of Grants Cibola County Schools and Departments will be closed on January 17th in observation of Martin Luther King Jr Day.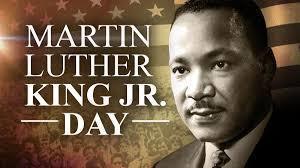 Los Alamitos Middle School will have regular in-person classes tomorrow. Please keep you child home if they are sick and/or showing symptoms. Also if they are pending a Covid test or results they should stay home as well. If you have any questions regarding this please contact the school tomorrow. Thank you.

To all of the GCCS Staff that are returning to work today! WELCOME BACK! We hope you had a very relaxing break and are recharged to attack the new year!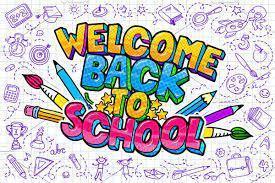 Attention GCCS Community: Public Notice for the next Scheduled School Board Meeting. Tune in virtually on January 4th.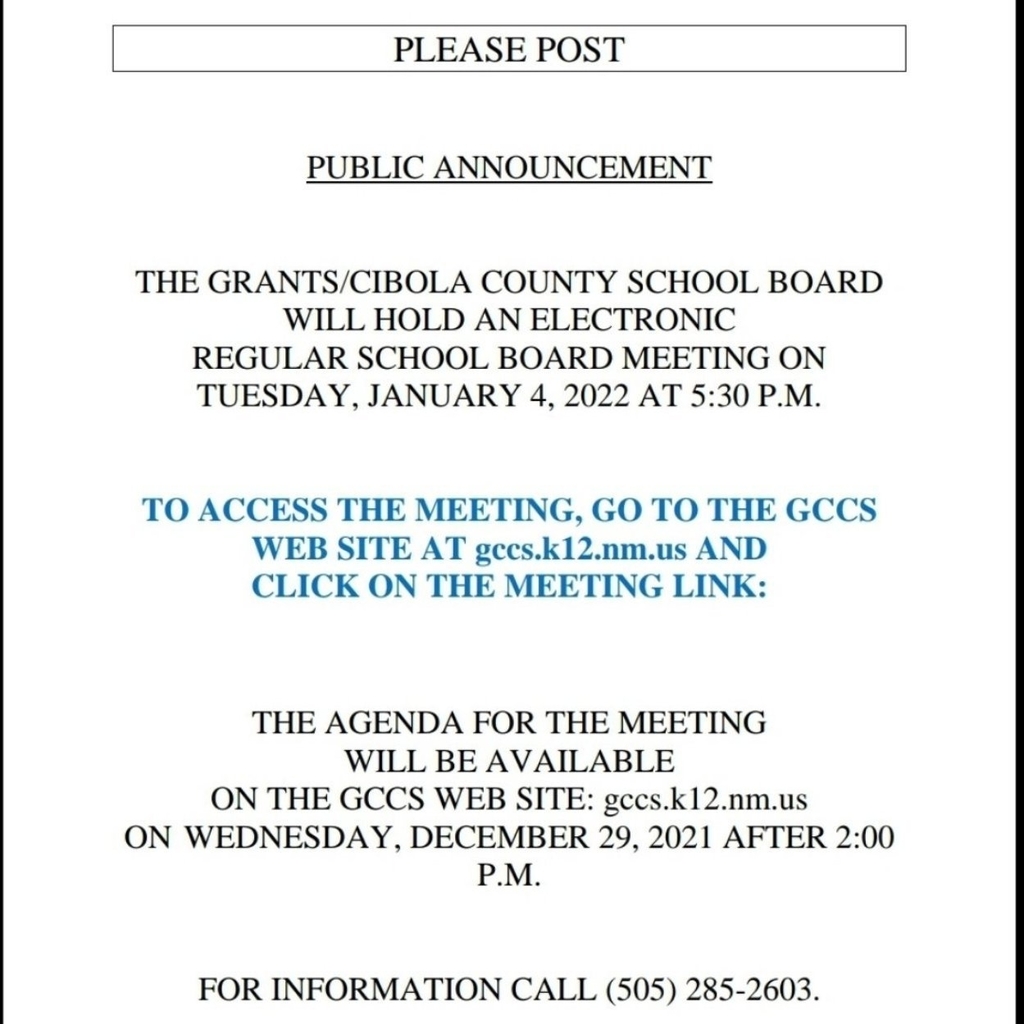 From Everyone at Central Office to all Staff and Students across the district! We want to wish you all a very Merry Christmas and we hope you are making the most of your winter break!!! Thanks for working through a very challenging year and we look forward to a the year ahead!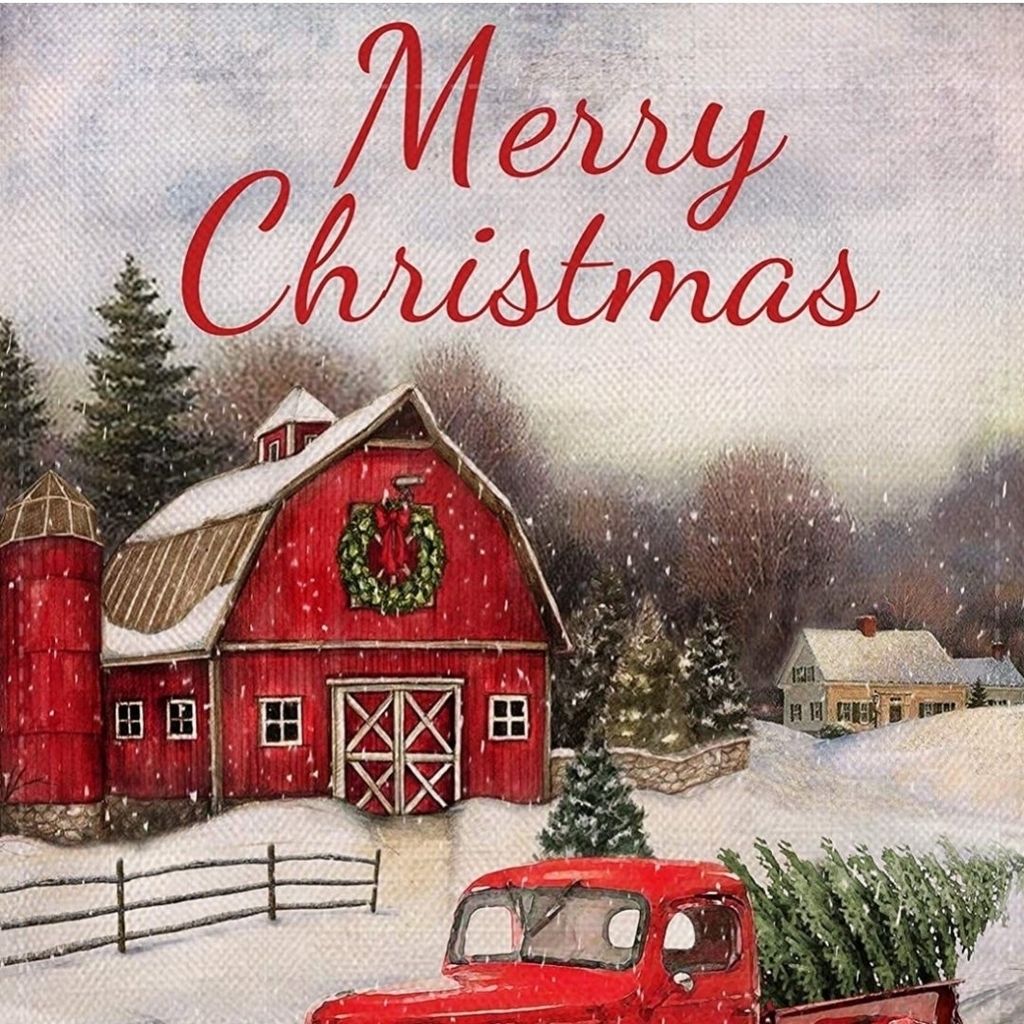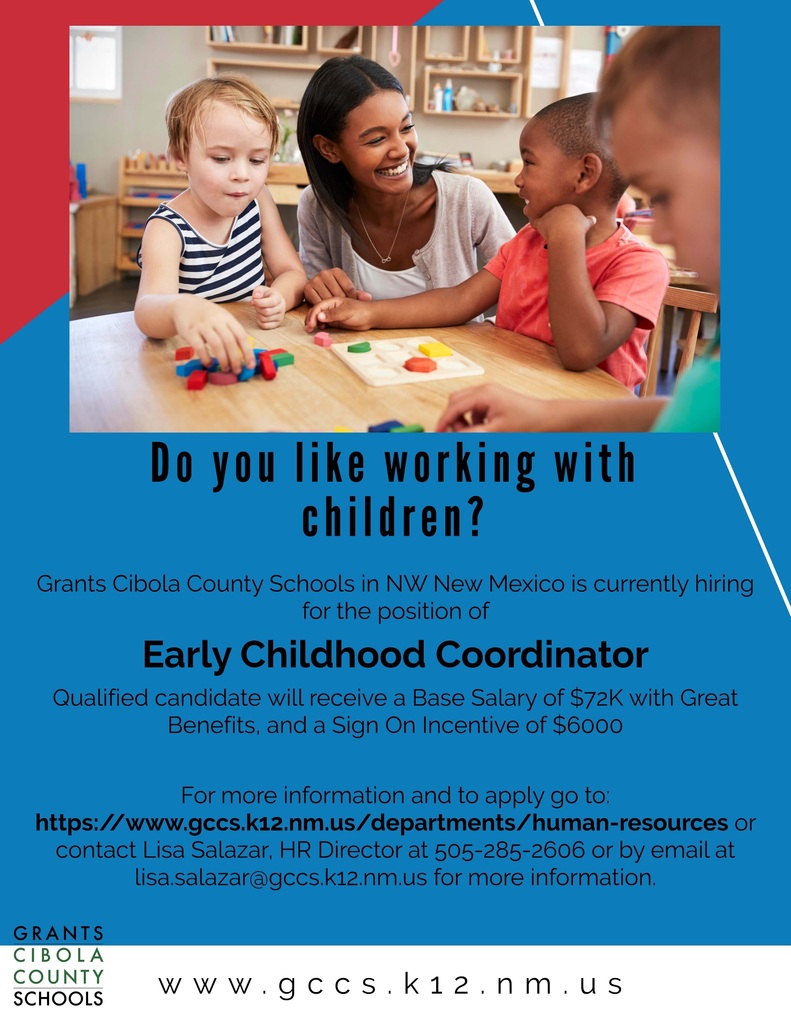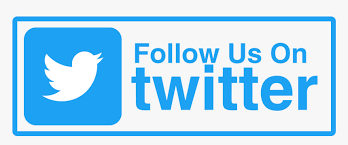 Great performance by our Los Alamitos Middle School Band tonight . These student did great! Their hard work and dedication was spotlighted tonight! Great job Band Teacher Mr. Carrillo.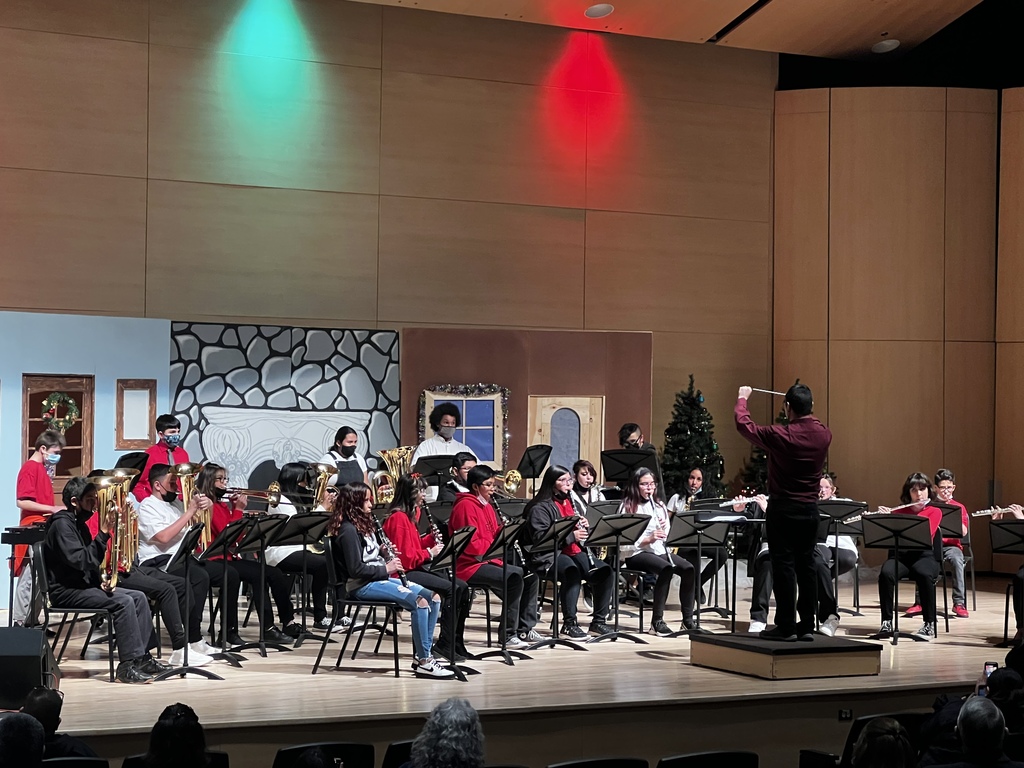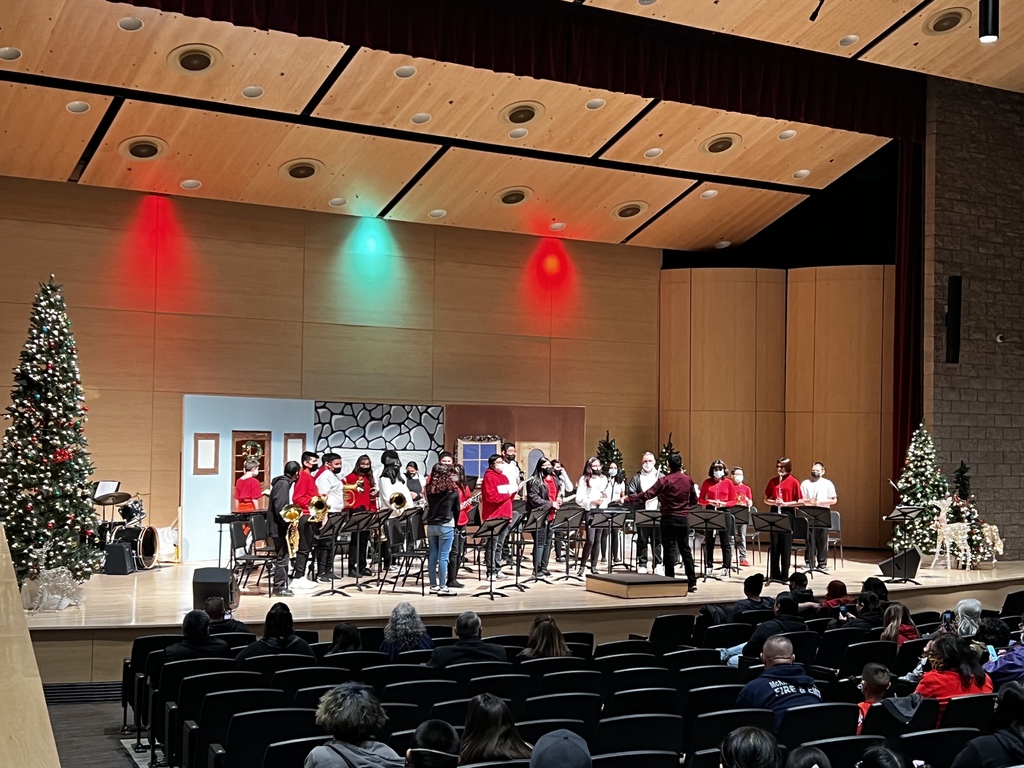 Please join Los Alamitos Middle School Band for our first performance of the year. This will take place at the Grants High School Performing Arts Center on Monday, December 13th at 6:30 pm. The event is free of charge so we encourage you to bring your whole family.

Attention GCCS Community! Have you visited our new Website and Mobile Apps? We encourage you to do so today at
www.gccs.k12.nm.us
Also, don't forget to download our new Mobile app on your Apple or Android devices and keep up to date with everything GCCS!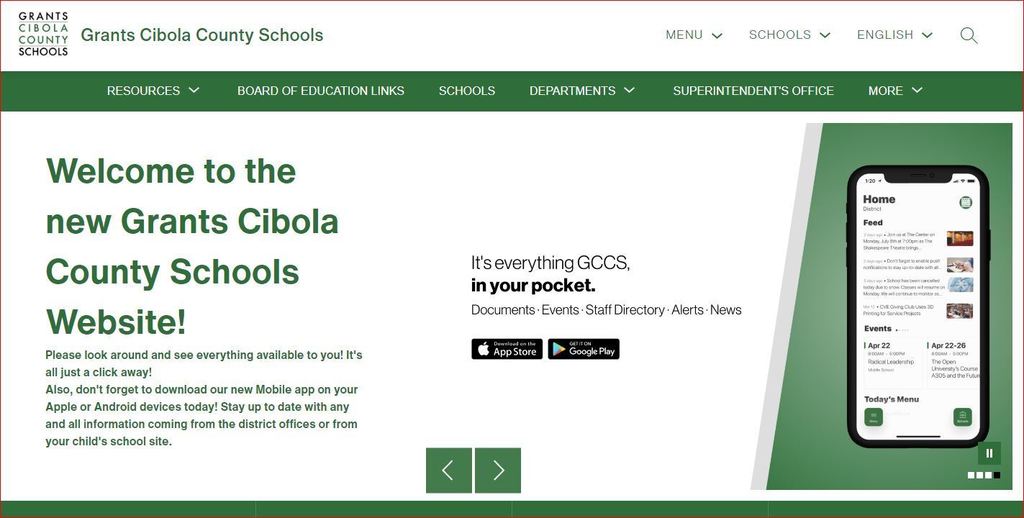 Attention GCCS Community! It's here! The new GCCS Mobile App is now Live! Keep up with everything GCCS! You can find it in your Mobile store by searcning for Grants Cibola County Schools and download now!!!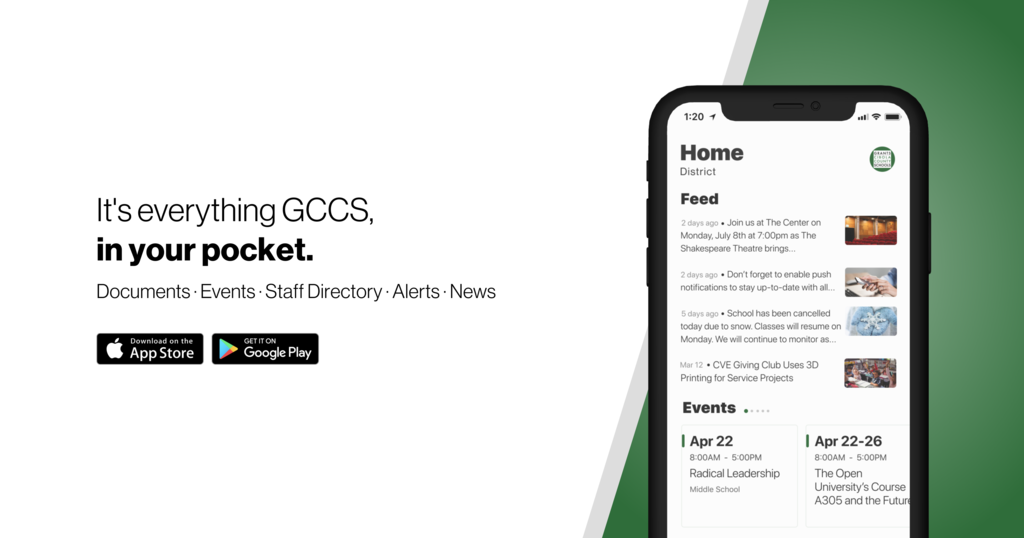 To all of those that served. From all of us at GCCS. We would like to say Thank You! Thank you for all you did for each of us and for our country! We hope you have Great Veterans Day! You are truly our hero's and deserve to be recognized and honored on this day!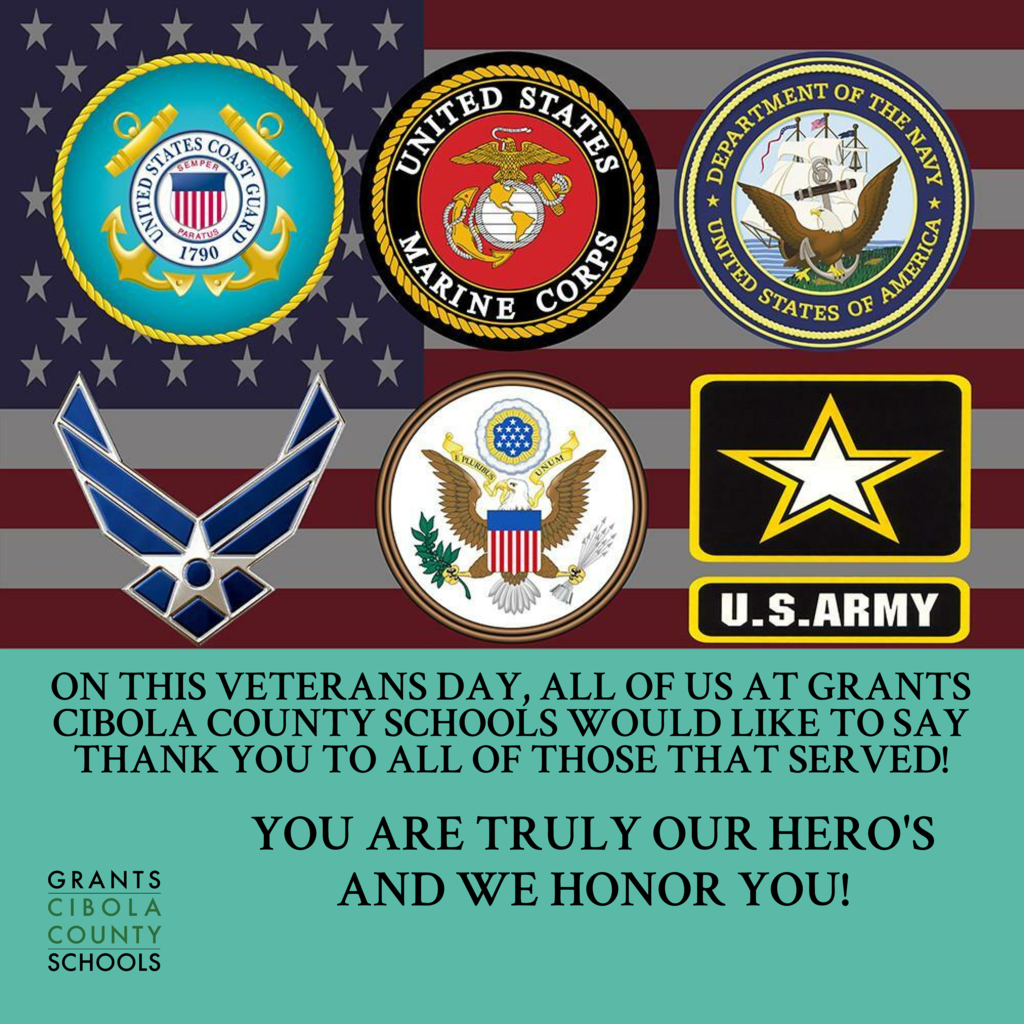 ATTENTION! Please read the attached letter from School Board President, Ron Ortiz as it will clear up any misinformation regarding the special school board meeting on Tuesday, the 9th of November.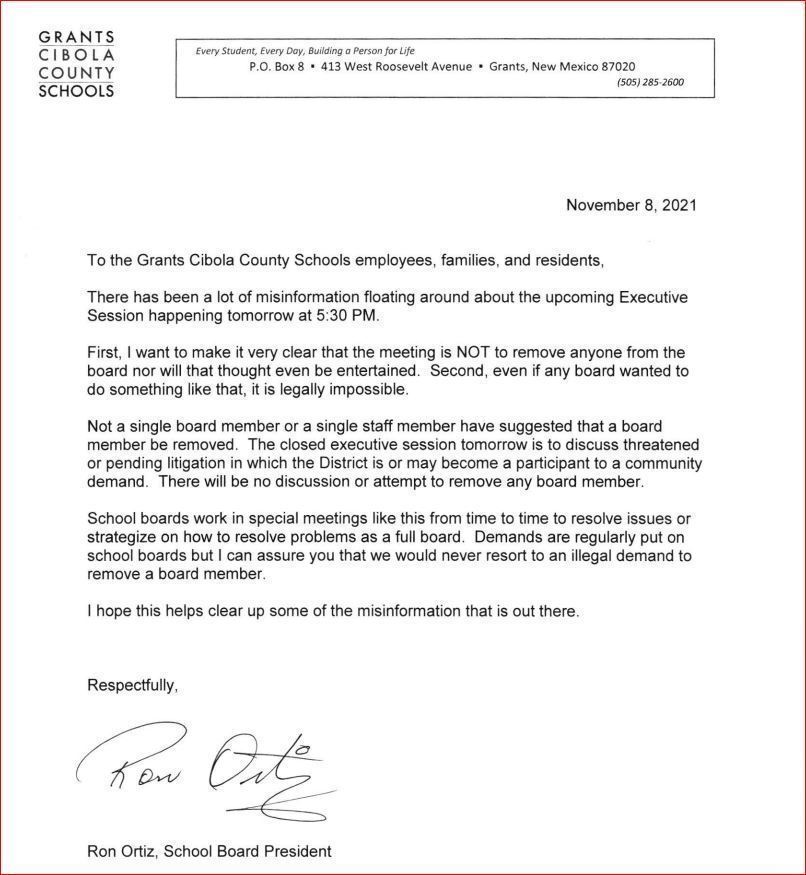 CONGRATULATIONS!!!! To everyone at Los Alamitos Middle School for Winning the Overall Quarter 1 Attendance Championship for Grants Cibola County Schools!!! Keep up the Great Work!!!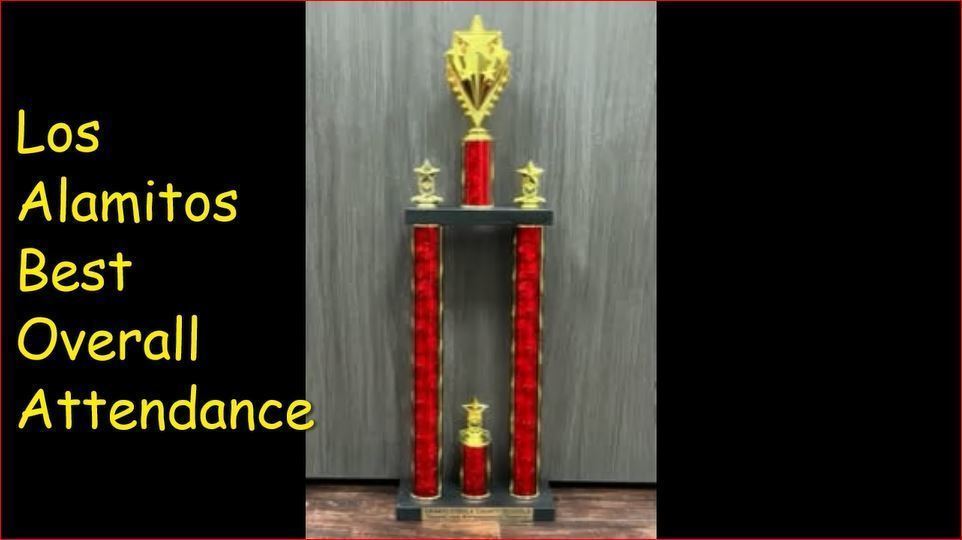 BIG SHOUT OUT TO BLUEWATER ELEMENTARY SCHOOL FOR EARNING THE ATTENDANCE CHAMPIONSHIP FOR QUARTER 1 ELEMENTARY SCHOOLS!!!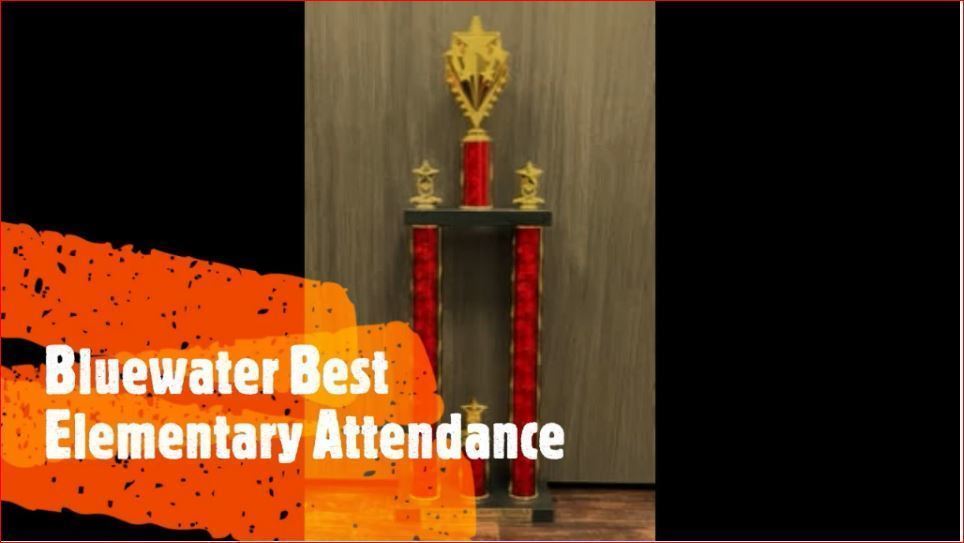 ATTENTION! There will be a Special Board Meeting on November 9, 2021.